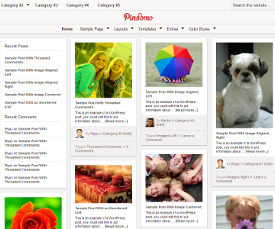 Pinsomo WordPress Theme – Pinsomo Theme Review.
Pinterest is one of the newest additions to the social media world that grow day by day. Focused on visual appearance to spread the words, Pinterest become one of the best way to inspire people nowadays, where you can "pin" and "repinned" any images that inspire you most.
The question is do you have an interesting idea and want to create your own social pinboard? Or you want to create your own online Pinterest website with WordPress platform. Then search no more because Pinsomo WordPress Theme by SomoThemes can help you doing that.
Pinsomo WordPress theme has the exact same layout as Pinterest, don't believe us – see demo and download page for yourself. That not all because Pinsomo WordPress theme also have the same functions as real Pinterest site.
Using Pinsomo WordPress Theme users can like, comment and share all pictures posted by the authors just like normal WordPress blog. Photo and Picture blogging has become so easy and innovative with this Pinterest type WordPress theme – Pinsomo. For more information about Pinsomo WordPress theme, make sure you visit Pinsomo WordPress theme demo and download page.
Download Pinsomo WordPress Theme.
See on somothemes.com