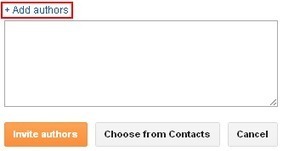 Wanna add more contributors for your blog? Read how to add contributors for your blog.
Tired of managing your blogs or seems you can't find enough time to publish fresh content on your blog? Sometimes you may find it difficult to publish posts as you were used to due to increase of workload or if you have to be away from your blog for some time. But if there are some more users willing to post on your blog, you might wanna give them a chance to publish content and keep your readers updated with brand new content. However else you may just seeking a way to add more authors and set up a blog as a team blog to contributed by set of contributors where only they can interact with the blog without exposing to public. Can you think of more reasons where you need to add more contributors on a blog?
If you are wish to create a blog where can be contributed by few more contributors or authors, then Blogger made it easy for you. Blogger let you add one or more authors to your blog via email invitations. Also if you are finding a way for guest authors to post on behalf of you, you will find this feature more useful. Authors added to your blog will be able to manage the posts they create and they have no access to posts published by other contributors. However if you grant admin privilages to any of contributor, he or she will able to access all settings and posts as you does. In Blogger, you don't have to go through a complex process to add authors and you can add maximum of 100 authors per blog. Excited? Let's find the way to add more authors to your blog.
See on mayura4ever.blogspot.fr